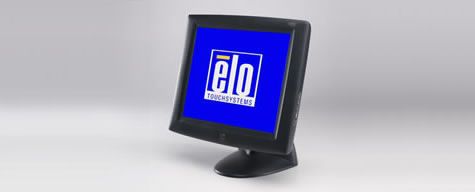 1725L 17" Touchscreen Monitor (Discontinued October 2007)
Overview
The 1725L was designed from a blank sheet of paper to address the key needs of touch applications, resulting in a product that can truly be called "designed for touch." It has a unique combination of flexibility, reliability, performance, ease-of-use and installation, all with a distinctive visual appeal. The optional, integrated three-stripe, ergonomically-placed magnetic stripe reader (MSR) is incorporated into the monitor housing and is positioned ergonomically on the top, right corner so that the user can swipe the card flat with a natural action. The MSR also reads the third data stripe, normally reserved for applications such as customer loyalty programs. The USB version has an internal USB hub so that a single USB connection/cable carries both the touch interface signal and the MSR data. Available with a choice of touch technologies, the 1725L is targeted toward applications that require the use of credit/debit cards, loyalty cards, and other card transactions.
Other features.
High quality panel with 140°x127° viewing angle
Analog and digital (DVI-D) video inputs
"Designed for touch" features such as a stable tilt base (-5° from vertical to 90°/horizontal)
Cables hidden from user's view
Mounting holes on base bottom for tabletop security
Base removable or reversible for wall mounting, plus VESA mounting option
Built-in speakers located in display head
Available with AccuTouch Five-Wire Resistive Technology, or IntelliTouch Surface Wave Technology
Dual serial/USB interface for non-MSR version
Ergonomic 3 stripe MSR available in three versions: USB with keyboard emulation; USB with human interface device (HID) class specification 1.1; and serial, which supports OPOS. OPOS is only supported in serial version.
Magnetic Stripe Reader cable is internal for USB versions and external for serial versions
Unique USB hub inside the monitor allows a single USB cable to carry both the touch signal and MSR data. The serial version has two cables/external connectors to carry the touch and MSR data.
Sealed touchscreen
Controls on the side rather than the front, plus lockout function for public use
Multilingual on-screen display (OSD) with extras including speaker volume, treble, bass, and balance
Long-lasting product cycle
Worldwide agency approvals
Merkmale
Technische

---

AccuTouch (Worldwide) - E103047
AccuTouch (Worldwide) - E757512
AccuTouch (Worldwide) - E696582
AccuTouch (Worldwide) - E679933
IntelliTouch (Worldwide) - E326261
IntelliTouch (Worldwide) - E739238
IntelliTouch (Worldwide) - E364393
IntelliTouch (Worldwide) - E294838

Touchtechnologie & Leistung

5-Draht-Widerstandstechnologie (AccuTouch®) - Single-Touch
SAW (IntelliTouch® akustische Oberflächenwelle) – Single Touch

17 zoll diagonal, Active-Matrix-TFT-LCD (LED)

13.3" x 10.6" / 338mm x 270mm

Andere unterstützte Auflösungen

1280 x 1024 at 60 or 75 Hz
1280 x 960 at 60 Hz
1152 x 864 at 75 Hz
1024 x 768 at 60, 65 Hz (Sun), 70 or 75 Hz
832 x 624 at 75 Hz (Mac)
800 x 600 at 56, 60, 72 or 75 Hz
720 x 400 at 70 Hz
640 x 480 at 60, 66 Hz (Mac), 72 or 75 Hz

Horizontal: ±70° or 140° total / Vertical: 60/67° or 127° total

16.2 million with dithering (6 bit)

LCD panel: 260 nits
AccuTouch: 213 nits
IntelliTouch: 239 nits

Reaktionszeit gesamt (typisch)

Analog (no proprietary video card needed); Digital Video Input (DVI-D)

Video-Eingangssignalanschluss

Touch-Benutzerschnittstelle

Dual serial/USB: E103047, E326261; Serial:E757512, E739238; USB: E696582, E679933, E364393, E294838

External power supply, 100-240 VAC, 50-60 Hz

11.4-19.95 VDC; Current (12 VDC): 4A max; Current (19 VDC): 2.65A max.

Horizontal: 31.5-80 kHz / Vertical: 56.3-75 Hz

Separate horizontal and vertical sync, composite sync and sync-on-green

Two watt/channel speakers located in display head

OSD lockouts for power and user controls
OSD extras include volume, treble, bass, balance

Side: menu, up, down, select, power
OSD: contrast, brightness, H/V position, recall defaults, color temperature, volume, sharpness, phase, clock, OSD position, OSD time, auto adjust, , input select (analog or digital)
Languages: English, German, Spanish, Japanese, French
OSD disable/enable: power, volume, and/or OSD menu

Monitorabmessungen (mit Standfuß)

17.1" x 16.9" x 9.62" / 434mm x 430mm x 244mm

Gewicht (ohne Verpackung)

Operating: 20%-80%; Storage: 10%-90%; noncondensing

Touchscreen sealed to bezel
Touchscreen sealed to LCD

100 mm or 75 mm M4 VESA mount
100 mm M5 threaded holes on base bottom for table top security
Removable base
Reversible stand for wall mounting
Stand rotates from -5° (from vertical) to 90° (horizontal)
Optional stability plate

Lebensdauer der Hintergrundbeleuchtung

Typical 40,000 hours to half brightness

Zertifizierungen und Konformitätserklärungen

UL, cUL, FCC, IC, CE, TÜV-GS, VCCI, C-Tick, MPR II

A North American power cable and a European power cable are included. For touchmonitors being shipped to the United Kingdom, add a UK power cable at no cost by specifying Elo p/n: E235317.

Elo p/n: E785134, available at additional cost.

Optionaler IntelliTouch-Stylus-Stift

Stylus pen with rubber tip, designed specifically for use with IntelliTouch SAW touch technology. Elo p/n: D82064-000, available at additional cost.

Detachable touch and video cables are included.

Mounts to the pedestal of the monitor to increase stability. Elo p/n: D47582-000, available at additional cost.
---
Erste Schritte mit Elo Today.